A place of mountains, lakes and even a sea shore!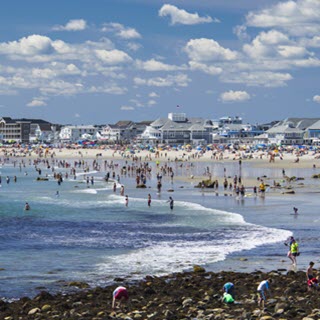 Whether it's gliding down winter ski slopes or splashing in the surf of the New Hampshire's short but sweet coastline, New Hampshire offers four distinct seasons and adventures in every region. Indulge in an easy-going day by the water, or if a more action-packed trip is calling your name, explore New Hampshire's wildlife with a hike or by bike. Experience a quintessential fall filled day with spectacular fall foliage scenery. Visit New Hampshire in the springtime and learn about maple sugaring and view stunning waterfalls.
Ski NH!
We have world-class events each winter on our slopes. Kids fall in love with skiing on a Waterville Valley family vacation. Disabled skiers push hard to realize their dreams at Mount Sunapee which is the home base for the New England Handicapped Sports Association. There are astonishing and exciting views from the summit of Wildcat Mountain. You can experience the ultimate in backcountry skiing at Tuckerman Ravine.
Moreover, New Hampshire is home to the most extensive network of cross-country ski trails in the East.
Modern technology, awesome scenery, and a rich history of skiing make New Hampshire an excellent place for skiing.
Wonderful Lakes!
Summer is a time for our lakes to really shine. Our beaches, lakes, and rivers are a perfect way to cool down. Try renting a surfboard, kayak or canoe, or find cruises if you'd like to enjoy the water without getting your toes wet.
While shrimp, tuna, and salmon are popular some come to New Hampshire just for the lobster. 
Lobsters with a  sweet, delectable taste!
Canoe or Kayak!
Find a refreshing, relaxing lakeside retreat. With 944 lakes in New Hampshire, that's not going to be a problem.